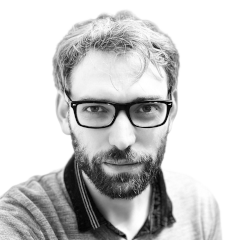 Research
I'm a bioinformatician/geneticist by training and a software engineer by calling. Most of my research was in genomics and the regulation of gene translation in mammals through changes in tRNA abundance and codon usage. My PhD thesis was on "Investigating the link between tRNA and mRNA abundance in mammals".
Previously I've worked in algorithms, in particular implementing high-throughput sequencing read mapping tools, and creating frameworks for the automatic parallelisation of high-performance code on multicore architecture. I have also done work in cell regulatory networks.
Open Source
I contribute prolifically to various Open Source projects. Some of my own most widely used projects are:
box: A package for the R programming language that enables writing reusable, composable and modular R code

named-operator: A small C++ helper that adds named operators to the language through operator overloading and templates, without macros; inspired a function in a Boost library
To see more of my contributions to Open Source projects, visit my GitHub profile.
Teaching
I have, at various times, taught on the following subjects:
High-throughput sequence analysis
CS 101 & CS 102
Algorithms in bioinformatics
Database systems & SQL
C++ · VB · Unix/Bash ·

L

A

T

E

X · R · Git
Basics of data compression
I'm also occasionally active on Stack Overflow, where I'm one of the 0.01% most active contributors of all time.
Selected publications
E Maori, I Cunha Navarro, H Boncristiani, DJ Seilly, KLM Rudolph, A Sapetschnig, C Lin, JE Ladbury, JD Evans, JL Heeney & EA Miska: A secreted RNA binding protein forms RNA-stabilizing granules in the honeybee royal jelly. Mol Cell, 74, 1–11 (May 2019)

KLM Rudolph*, BM Schmitt*, D Villar, RJ White, JC Marioni, C Kutter & DT Odom: "Codon-driven translational efficiency is stable across diverse mammalian cell states". PLoS Genet, 12(5): e1006024 (May 2016)

BM Schmitt*, KLM Rudolph*, P Karagianni, NA Fonseca, RJ White, I Talianidis, DT Odom, JC Marioni, & C Kutter: "High-resolution mapping of transcriptional dynamics across tissue development reveals a stable mRNA–tRNA interface". Genome Res, 24(11):1797–807 (Nov 2014)
For more, see my Google Scholar profile. * indicates joint first authors
CV
You can find my more or less up-to-date CV as a Developer Story on Stack Overflow.